For those of you who are new to CMS on e-commerce platforms, Magento is the leading digital commerce platform who launched an upgrade – Magento 2 in late 2015. This new version like its predecessor is open source for enterprise and community editions. The upgrade guarantees enhanced performance and scalability while enabling brands, retailers, and businesses across B2C and B2B industries to create engaging digital shopping experiences in a well paced and cost-effective manner. It also promises new features to boost conversion rates along with business agility and productivity improvements. The new platform stays true to the traditional open source culture at Magento and offers unmatched flexibility and innovation opportunities to all the global ecosystem of partners and developers. The upgraded Magento 2 also has a new Admin panel design that offers streamlined, consumer-like interface which helps save time from managing routine tasks while being extremely user friendly. This version also happens to be touch device friendly, facilitating the freedom to make updates or track sales while on-the- go.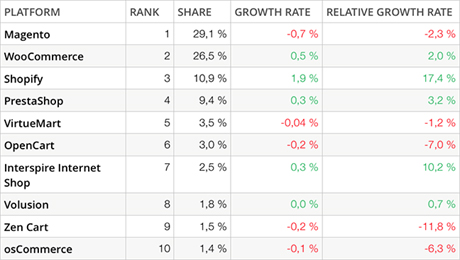 Magento currently holds about 30% of the market share for e-commerce platforms. This percentage is most likely to increase as the version gets older. With time Magento 1 will be slowly phased out, in effect adding to the towering presence of Magento 2 stores globally. This growth will also be propelled further by brand new webshops and online businesses entering the market. Magento Commerce is actively reforming the merchant experience, enabling webstore owners to operate more efficiently and handle rapid growth, without scaling up teams.
If you are confused, there is little to no doubt that Magento 2 will become one of the market leading e-commerce website platforms in the years to come. Magento Commerce, VP Strategy – Peter Sheldon on December 21, 2016 announced the strategic acquisition of the technology powering Bluefoot CMS & Page builder module for Magento. This technology once integrated equips Magento merchants with a range of tools for content creation and management. This feature makes the addition of content like Products, images, maps possible with simplest Drag & Drop functionality while allowing edits to aspects of product description and blogs. The analytics wing known as Magento Business Intelligence enables the merchants to consolidate various data sources into a single Cloud-based Data Warehouse and solves the pressing need to have complex data storing infrastructure.
Magento 2 is in more ways than one paving a path to market domination. Magento, however has to be mindful of competition from other top platforms like Shopify and Woocommerce. It would be an understatement to just label Magento 1 as a success. However that success did not come over night, Magento 1 was first released in 2008 and today after 8 years of existence it is still going strong here in 2017.
So here are a few pointers to help you conclude how this upgrade is worth all the time, money & effort, some salient features of Magento 2 in comparison to its ancestor.
Improved performance: The upgrade promises a 20% jump in speed in comparison to its forerunner. E-commerce store owners understand the significance of increased site speeds and its direct link to Volume of Sales and the cascading effect of a Search Engine Optimized website. This increased speed is attributed to the Full-Page Caching built into the platform, enabling the pages to load faster, 1-2 seconds compared to the 5-10 seconds for non-cached pages. The improvement in page response and loading time is made possible by improving the way the application interacts with the browser. This is achieved by notably reducing the amount of data that must be returned from the server to render web pages by using the browser cache for storing assets. Even large store owners stand to benefit with the upgrade as it also handles multiple catalog pages without slowing down, making the switch scalable for large stores wanting to tap the potential of online business.
User-Friendly Checkout: In comparison to the earlier version the checkout process in Magento 2 is more streamlined, resulting in the fall of average time spent by customers from the cart to a successful order placement. Even the backend of checkout process has been redesigned for effective management. Being a highly customizable platform is an added advantage and it requires less steps and customer information. On the way to the checkout a customer is brought to default guest checkout screen and is made to enter an email address. If matched with an existing customer record, one is given an option to checkout faster with saved information. Finally reducing the checkout time means drastically reducing abandoned carts whilst significantly increasing conversions. All guests can create an account in one click from the Thank You page post order processing. These features make customers keep coming back for more.
The Extensions: Are you worried about the compatibility of extensions in Magento 2? Breathe a sigh of relief because the developers worked closely with all the big extension providers to ensure smooth transfer of all the existing extensions to Magento 2, while maintaining minimum data and functionality loss. However custom developed extension users may need to seek additional assistance to shield its functionality during the upgradation.
Secure Payment Gateway Integrations: The migration also promises many more payment gateway integrations unlike the previous versions. The new Magento platform comes with well chalked out integrations with PayPal, Braintree, and Authorize.net payment gateways. The Magento Enterprise Edition 2.0 also integrates with WorldPay and CyberSource. Both these versions provide enhanced security features while also maintaining the ability to naturally comply with PCI standards, varying from one payment method to the other.
Easier Maintenance and Upgrades: The design of the upgraded version effectively reduces the complexity while ensuring stable maintenance costs. The version helps the user insure and prepare for the future by simplifying subsequent upgrades. This naturally means that one can periodically incorporate all the operational and functional bug fixes as and when Magento Commerce releases them, thus facilitating WebShop owners to drive higher sales with increased efficiency.
All of these features make Magento 2 a highly efficient e-commerce platform famous for operating better at scale compared to its earlier versions. It is also steadily gaining in popularity for being performance driven while combining new functionality and flexibility. Magento 2 ensures that both the merchants and the end customers are treated to a customized digital shopping experience while equipping both for handling changing trends. Magento 2 is without a doubt the next-Generation solution that will fuel your business into the future. Welcome to the next-generation of online commerce! 2017 is the perfect time to ride the Magento 2 wave! Upgrade to Magento 2 now with offshore magento development at Coreway Solution.